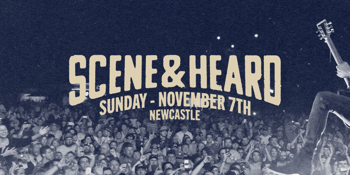 Scene & Heard Festival 2021
Wickham Park (Newcastle, NSW)
Sunday, 7 November 2021 12:00 pm
SCENE & HEARD FESTIVAL
RETURNS TO NEWCASTLE'S WICKHAM PARK NOVEMBER 07, 2021
With a stellar line-up featuring
GRINSPOON, REGURGITATOR, RATCAT, FRENZAL RHOMB and more…
This spring in Newcastle is set to get hotter as Scene & Heard Festival returns with another epic line-up, featuring the cream of the Australian 90s/noughties alternative music scene.
Following up its successful 2018/19 events, with Covid putting a stop to live music throughout most of 2020, Scene & Heard had set its sights on 2021 to bring you more of your favourite classic acts - jam-packed into a full day of live music & entertainment. Pull out your Hottest 100 compilations in preparation and get ready for Grinspoon, Regurgitator, Ratcat, Frenzal Rhomb, COG, Killing Heidi, Custard & Caligula, along with the Discovery "Daft Punk Tribute" show, Minx and more, as they hit Wickham Park on Sunday November 11, 2021.

If you cannot make this new date, you are entitled to request a refund of the ticket price, minus booking fees, for up to 20 days from the official festival postponement announcement.
Please CLICK HERE to view Scene & Heard's Terms and Conditions for this year's festival.